A Personal Royal Caribbean Experience: Guided Land Cruisetours Make the Most of Alaska
Royal Caribbean's guided land cruisetours allow guests to experience Alaska's majestic frontier both by land and sea. Private guides work together to ensure each guests' comfort and safety delivering an overall Wow experience!
Destination Spotlight
Labadee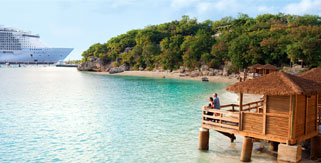 Private Paradise
On the north coast of Haiti, surrounded by beautiful mountain slopes and exotic foliage, sits Labadee®, Private Paradise. This exclusive destination offers pristine beaches, breathtaking scenery and spectacular water activities.
View Destination Information
Category: