A Visit to the Doctors: Touring Oasis' Medical Facility
Guests' comfort and wellness is always the first priority aboard Oasis of the Seas and that philosophy extends to the ship's fully-equipped, state-of-the-art medical center. Join Dr. Eilif Dahl on a tour of this innovative facility.
Destination Spotlight
Labadee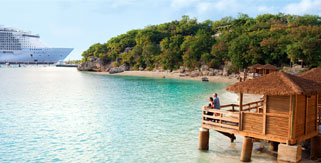 Private Paradise
On the north coast of Haiti, surrounded by beautiful mountain slopes and exotic foliage, sits Labadee®, Private Paradise. This exclusive destination offers pristine beaches, breathtaking scenery and spectacular water activities.
View Destination Information
Category: