Barbie Sets Sail Around the World: Mattel and Royal Caribbean Create the Barbie Experience
Barbie, the world's most famous doll, sails onboard Royal Caribbean ships thanks to an exclusive partnership with Mattel. From fashion shows to tea parties to stateroom amenities, this Premium Experience will create a lifetime of cruise memories.
Destination Spotlight
Labadee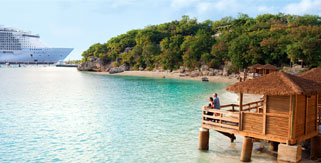 Private Paradise
On the north coast of Haiti, surrounded by beautiful mountain slopes and exotic foliage, sits Labadee®, Private Paradise. This exclusive destination offers pristine beaches, breathtaking scenery and spectacular water activities.
View Destination Information
Category: