Bringing Broadway to Allure
A Tony Award-winning musical is a tough act to bring to sea, but the cast of Chicago on Allure of the Seas is up for the challenge! Watch as they razzle dazzle in rehearsals.
Destination Spotlight
Labadee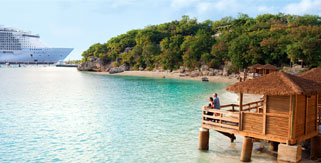 Private Paradise
On the north coast of Haiti, surrounded by beautiful mountain slopes and exotic foliage, sits Labadee®, Private Paradise. This exclusive destination offers pristine beaches, breathtaking scenery and spectacular water activities.
View Destination Information