Broadway Debuts at Sea: Hairspray Prepares to Cast Off
From Broadway to the open sea, the cast of Hairspray on Oasis of the Seas has been working hard to be ready for the show's premiere. Meet the show's lead actors and director as they share what it means to be part of this incredible production.
Destination Spotlight
Labadee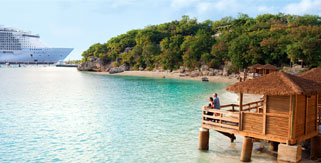 Private Paradise
On the north coast of Haiti, surrounded by beautiful mountain slopes and exotic foliage, sits Labadee®, Private Paradise. This exclusive destination offers pristine beaches, breathtaking scenery and spectacular water activities.
View Destination Information
Category: