Pink Sands & Golfing Greens: Explore the Colorful Island of Bermuda
Nobody delivers more jaw-dropping, tummy-tickling, romance-kindling moments in the Caribbean. See for yourself at www.RoyalCaribbean.com/Caribbean.
Destination Spotlight
Labadee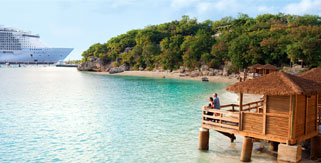 Private Paradise
On the north coast of Haiti, surrounded by beautiful mountain slopes and exotic foliage, sits Labadee®, Private Paradise. This exclusive destination offers pristine beaches, breathtaking scenery and spectacular water activities.
View Destination Information