Focusing on a Future for Haiti: Royal Caribbean's L'Ecole Nouvelle
The opening of Royal Caribbean's L'Ecole Nouvelle school in Haiti brings new opportunities for educating youth and adults in the impoverished country. An ongoing commitment to Haiti instills hope for a better future.
Destination Spotlight
Labadee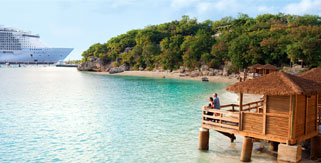 Private Paradise
On the north coast of Haiti, surrounded by beautiful mountain slopes and exotic foliage, sits Labadee®, Private Paradise. This exclusive destination offers pristine beaches, breathtaking scenery and spectacular water activities.
View Destination Information
Category: