In the Cupboard: Sprinkles and smiles at the only cupcake shop at sea
Behind its adorable 1940s'-inspired storefront, the Cupcake Cupboard is baking up some seriously sweet confections at sea. Each day, gourmet cupcakes are meticulously crafted from scratch, in sumptuous flavors from key lime to root beer.
Destination Spotlight
Labadee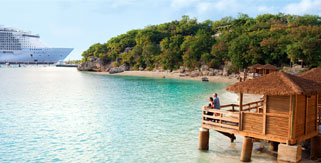 Private Paradise
On the north coast of Haiti, surrounded by beautiful mountain slopes and exotic foliage, sits Labadee®, Private Paradise. This exclusive destination offers pristine beaches, breathtaking scenery and spectacular water activities.
View Destination Information