Izumi's fresh take on the timeless art of sushi
At Royal Caribbean's Izumi restaurant, centuries-old preparation techniques combine with modern presentation for a one-of-a-kind Asian-fusion experience. Saute fresh ingredients on a hot rock tableside, or try flavorful pressed sushi and rolls.
Destination Spotlight
Labadee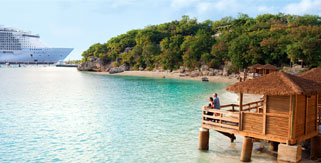 Private Paradise
On the north coast of Haiti, surrounded by beautiful mountain slopes and exotic foliage, sits Labadee®, Private Paradise. This exclusive destination offers pristine beaches, breathtaking scenery and spectacular water activities.
View Destination Information