Oasis of the Seas: Growing Central Park
The crew of Oasis of the Seas is proud to have a stretch of land to call their own-especially since it's in the middle of open water! Learn how Central Park went from an idea to an unprecedented reality aboard Oasis of the Seas.
Destination Spotlight
Labadee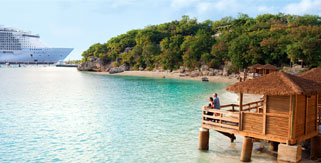 Private Paradise
On the north coast of Haiti, surrounded by beautiful mountain slopes and exotic foliage, sits Labadee®, Private Paradise. This exclusive destination offers pristine beaches, breathtaking scenery and spectacular water activities.
View Destination Information
Category: