Oasis of the Seas: Rescue Vessels
"Ships unto themselves," the rescue vessels on Oasis of the Seas are much more than your average lifeboat. See how the unprecedented size, stability and convenience of these vessels make emergency response more comfortable and effective than ever.
Destination Spotlight
Labadee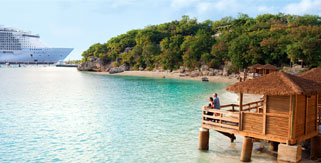 Private Paradise
On the north coast of Haiti, surrounded by beautiful mountain slopes and exotic foliage, sits Labadee®, Private Paradise. This exclusive destination offers pristine beaches, breathtaking scenery and spectacular water activities.
View Destination Information
Category: