Playing a Perfect Octave: Meet Oasis' Music Director
Working on two shows aboard Oasis of the Seas, music director Jonathan Hopes is a man of many talents. Learn how he's able to organize rehearsals throughout the ship, from Dazzles to staterooms and make sure everything is ready for Oasis' arrival.
Destination Spotlight
Labadee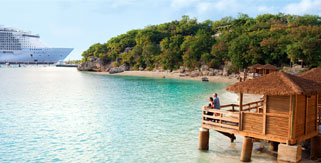 Private Paradise
On the north coast of Haiti, surrounded by beautiful mountain slopes and exotic foliage, sits Labadee®, Private Paradise. This exclusive destination offers pristine beaches, breathtaking scenery and spectacular water activities.
View Destination Information
Category: