Rocking Out at Music Hall: Rebellious & Edgy Live Music Venue on Quantum of Seas Keeps Toes Tapping
Music Hall is Quantum of the Seas' hottest live music venue and the ultimate place for guests to enjoy intimate and exclusive access to live performances. Rebellious and edgy in design, the Music Hall will feature dance classes and improv workshops during the day and will come alive at night as the heart of the ship's entertainment featuring bands, musicians, DJs, theme nights and more.
Destination Spotlight
Labadee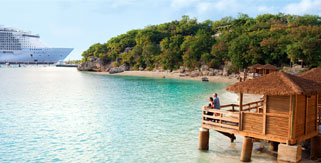 Private Paradise
On the north coast of Haiti, surrounded by beautiful mountain slopes and exotic foliage, sits Labadee®, Private Paradise. This exclusive destination offers pristine beaches, breathtaking scenery and spectacular water activities.
View Destination Information