Water, Water Everywhere: Exploring the Aquatic Adventure on Oasis
From the H2O Zone to the Sports and Beach Pools, there's no better playground on Oasis of the Seas than the Pool and Sports Zone. Take a tour of the variety of aquatic adventures for all ages and find your favorite pursuit .
Destination Spotlight
Labadee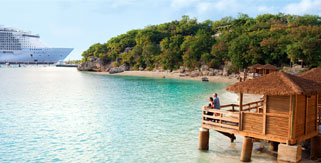 Private Paradise
On the north coast of Haiti, surrounded by beautiful mountain slopes and exotic foliage, sits Labadee®, Private Paradise. This exclusive destination offers pristine beaches, breathtaking scenery and spectacular water activities.
View Destination Information
Category: