World-Class Athletes Answer the Call of the Sea: The Royal Deck-athlon Commercial
Two legendary athletes, 10 featured events. World champion diver Greg Louganis & world figure skating champion Michelle Kwan go head-to-head in the first ever Deck-athlon at sea.
Destination Spotlight
Labadee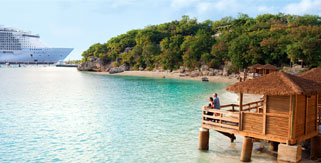 Private Paradise
On the north coast of Haiti, surrounded by beautiful mountain slopes and exotic foliage, sits Labadee®, Private Paradise. This exclusive destination offers pristine beaches, breathtaking scenery and spectacular water activities.
View Destination Information