World-Class Athletes Go Head-to-Head: Competition Heats Up in Royal Caribbean's Deck-athlon
World-class athletes, Michelle Kwan and Greg Louganis, compete head-to head in the Royal Deck-athlon, a series of 10 events held onboard Royal Caribbean's Oasis of the Seas, the world's largest cruise ship. See who comes out on top.
Destination Spotlight
Labadee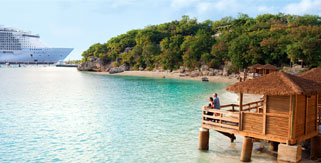 Private Paradise
On the north coast of Haiti, surrounded by beautiful mountain slopes and exotic foliage, sits Labadee®, Private Paradise. This exclusive destination offers pristine beaches, breathtaking scenery and spectacular water activities.
View Destination Information