Intro from Adam:
Many readers have requested to hear more about our crew, their backgrounds and their responsibilities.  Since we also hear similar questions from guests onboard, I will ask select crew members to periodically blog about their experiences on our ships.   I hope you enjoy the first post from Cruise Director, Ken Rush.  Please let us know what other crew members or roles you are interested in hearing more about.
———-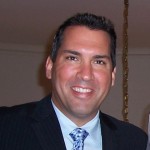 I'm Ken Rush, a Cruise Director on Allure of the Seas and I can boast of being from the Courtesy Capital of the World – La Mirada, California. After studying acting, I pursued a successful career as a Master of Ceremonies for many major events including charity auctions, nightclubs and cabarets. In the fall of 1984, I took a cruise aboard the Azure Seas that changed my life. Within months I was hired as a Cruise Staff member.  I was promoted quickly through the ranks holding several positions from Shore Excursion Manager, Production Manager to Cruise Director. I have been Cruise Director on numerous Royal Caribbean International ships and am very honored to have been chosen as part of the inaugural team taking out all of our new ships including the latest amazing, Allure of the Seas.
Many guests ask me, "Do I ever sleep?" and the answer is "Yes about 5 hours a day."  That's not necessarily true, it's more like 5-7 hours on a very busy day, like an average sea day onboard the "Ship of Entertainment," Allure of the Seas. Our ship offers entertainment not only in the evening time, we offer entertainment all throughout the day.
As the Cruise Director, I am in charge of all of the activities and entertainment throughout the entire cruise and I am not just saying this, as much as I have enjoyed every ship I have ever worked on, we have really hit a home run in every aspect onboard Allure of the Seas with the many different shows we offer and the quality of the shows, which in my opinion (and many others) are terrific. 
Also, a lot of people have no idea what is involved in being a Cruise Director as they think the only thing we do is host the activities and shows. There are many things to do behind the scenes; from office time which includes planning the cruises, creating the activities, music and entertainment schedule for the week, to budgets, finances, human resources and managing a team of 225 staff members, just to name a few but there is much more.
Here is an example of what a sea day looks like to the Cruise Director of Allure.
7:00am – Wake up and get ready for a busy sea day
7:30am – Office time – making sure everything is set for the day and to look ahead and plan future cruises.
8:30am – Meeting with the Hotel Director and all division heads to discuss business of the day and the entire week, the clientele and any concerns or questions everyone has.
10:30am – Call with the Miami office and my bosses in Entertainment and Guest Activities for a weekly check in.
11:00am – Record television show for guests
11:30am-12:15pm – Walk the ship saying hello to our guests.
12:15pm-12:30pm – A quick lunch
12:55pm – Close the "How To Train your Dragon" Family Ice show
1:15pm – Host the Belly Flop Competition in the AquaTheater
2:55pm – Close the next "How to Train your Dragon" Family Ice Show
3:00pm – 4:30pm – Walk the ship saying hello to our guests
4:30pm – Get ready for the evening
5:00pm – Attend and host the Platinum and Diamond party for our Crown and Anchor Society members who have sailed many times with us before.
6:00pm-6:30pm – Dinner
6:30pm-7:30pm – Office time – answer emails and do business calls.
7:30pm – Host OceanAria Aqua show
8:15pm – Close OceanAria Aqua show
8:15pm-9:30pm – Walk the ship and check in with the staff and musicians and support them in the shows and music sets they are hosting
9:30pm – Host next OceanAria Aqua show
10:15pm – Close OceanAria Aqua show
10:15pm-10:30pm – Run over to the Amber Theater
10:30pm – Host the Love and Marriage Game show
Midnight – Attend the Escape by Malibu party in the Solarium, support the team running the event and socialize with our guests.
1:00am – Go to bed and get ready for another full day tomorrow.
Typically a Cruise Director works for 4 months then has 2 months off and yes, during the 4 months on, we are really "on" with no days off and very limited time off but if you love people like I do and love your job like I do, it's a wonderful life. And I must love it as I just celebrated 26 years with Royal Caribbean and I still enjoy every single day.
People also ask me, "What is the toughest part of your job?" and my answer is "To try and make every single person onboard happy." Some say that is impossible and my response to that is, "that doesn't mean I won't try…..I only want all of our guests to have a wonderful cruise vacation and yes, I know that sounds like a planned response but I am very sincere when I say that because I truly mean that."