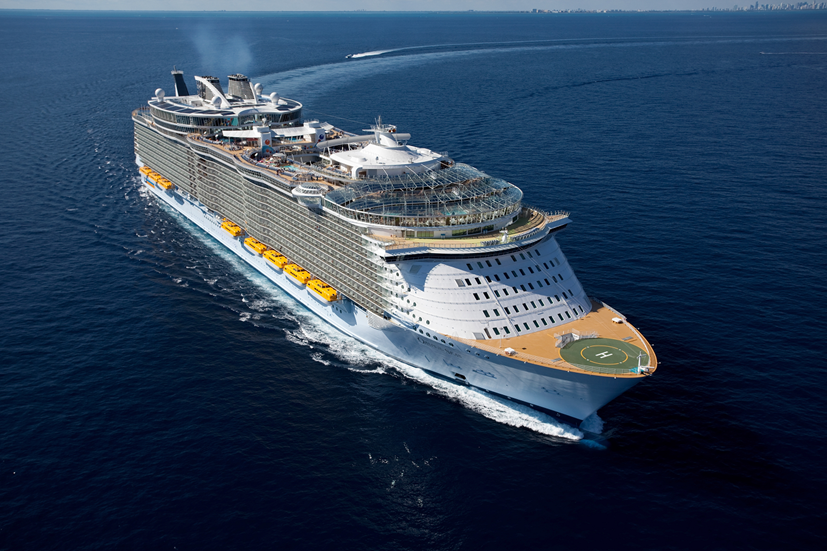 In a week I'll be on Oasis of the Seas for several nights.  You'll see this afterwards and most likely I will comment on what actually transpires during my trip.  Here are some pre-cruise thoughts.
People inside and outside the industry ask me questions such as "Do you like to cruise?", "How often do you cruise?", "What do you do on a cruise?", "What is your favorite cruise?" and "What else do you do for vacation?"  So here are my short answers to those questions.
Do I like to cruise?  Surprise! Yes, I like to cruise.  I don't have to fake what I think in order to sell cruises.  They are fun even for work.  People also ask me whether I can really have a vacation on a Royal Caribbean cruise.  The answer to that is yes too.  Of course our people recognize me (no "Undercover Boss" for me!) but they are an absolute pleasure to be around and they want me to have a good time.  I also do some official duties while I'm onboard and I'm fine with that as well.  I expect to have a good time and I do.  It's great when my immediate family cruises and it's great as a multigenerational family experience.
How often do I cruise? Not enough.  It's hard to fit everything in a year or even a group of years.  I probably average a cruise about every other year.  One reason I don't cruise more is the amount of time I spend onboard when we're introducing new ships, which until this year we have been doing virtually every year.  It's hard to do that and then turn around and cruise again.  But my family pushes me to do more cruises.
What do I do on a cruise?  I work out every day.  I eat at the different specialty restaurants.  I go to all the shows.  I like to go to the spa as long as the spa manager agrees to charge me for the massage – if the spa manager doesn't agree than I cannot go.  I also do active shore excursions in the ports.  I don't hang out by the pool, rarely shop and don't go to the casino.
What is my favorite cruise?  Since many of our best deals this year are on European cruises, I think I'm supposed to say a cruise in Europe.  However, as fabulous as Europe is, I spent a lot of time on the land there before I joined Royal Caribbean, including getting my MBA in France.  My actual answer is in two parts. First, Alaska is my favorite of mainstream cruises and of the cruises we offer.  It's simply a breathtaking experience.  Second, the family cruise to the Galapagos we took several years ago on Celebrity Xpedition was not only our favorite cruise but our favorite vacation overall.
What else do I do on vacation?  We love to ski and try to manage our winter activities to get to Colorado when possible.  It gets harder as time goes on.  I have noted in the past that we have a very strong family attachment to the state of Maine that started with my father in 1946 and now extends to my children.  If you have never experienced what Maine has to offer, it's not too late to try it.  Finally, one of these years we are going to do a safari in Africa but I don't know when.