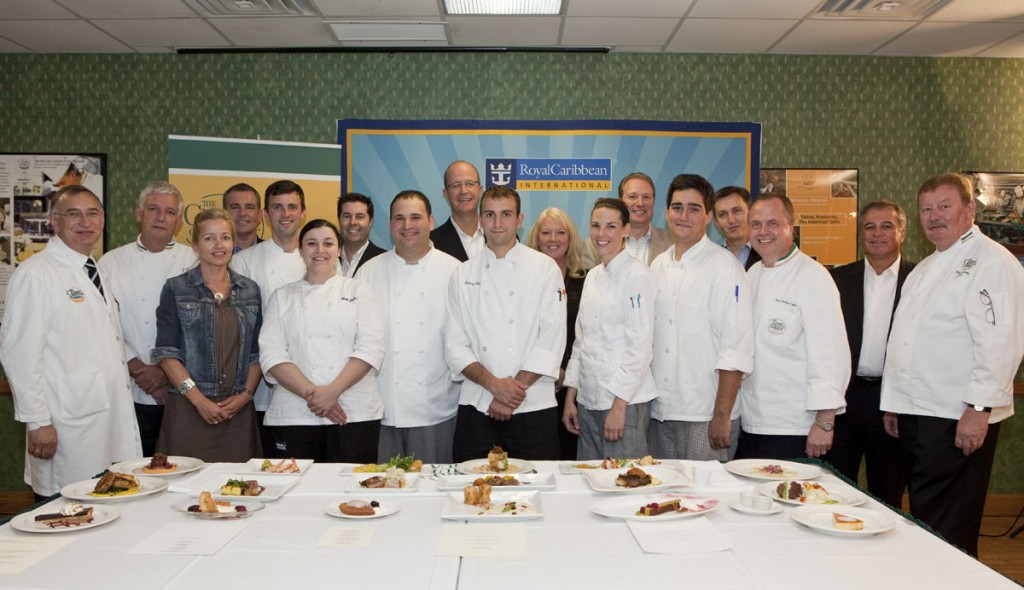 The Royal Caribbean team all headed to Hyde Park, New York and the Culinary Institute of America (CIA) for the final phase of our contest for the selection of the new Chef de Cuisine for 150 Central Park on Allure of the Seas.  I had never been to the CIA campus, and a word we are very familiar with at Royal came to mind – WOW.  This is a very impressive and picturesque campus. I highly encourage a trip to visit the facility and enjoy the culinary treats.  The smells alone were intoxicating.  I would also like to thank the chefs from the CIA that worked with us on this search, as they were awesome.  This included Master Chefs Ron, Rudy, Lou and Victor, all famous in their own right and we were very fortunate to get their expertise and input during this unique search process.
After the tour, we began the panel interview process with each of the six candidates.  This was our opportunity to meet them and ask them questions about their history, motivations, and really get a sense of their passion and interests.  We wanted to ensure they weren't only skilled Chefs, but could manage a staff and have good leadership skills as well professional presence and personality to meet with our guests in 150 Central Park.  The whole idea behind 150 Central Park is for the restaurant to take on the personality of the Chef, so that is why we were so careful to balance all these requirements. Each candidate received a score on how they interviewed.  The candidates then had two hours of prep work to begin to get ready for the big day where they actually prepared their meals for us.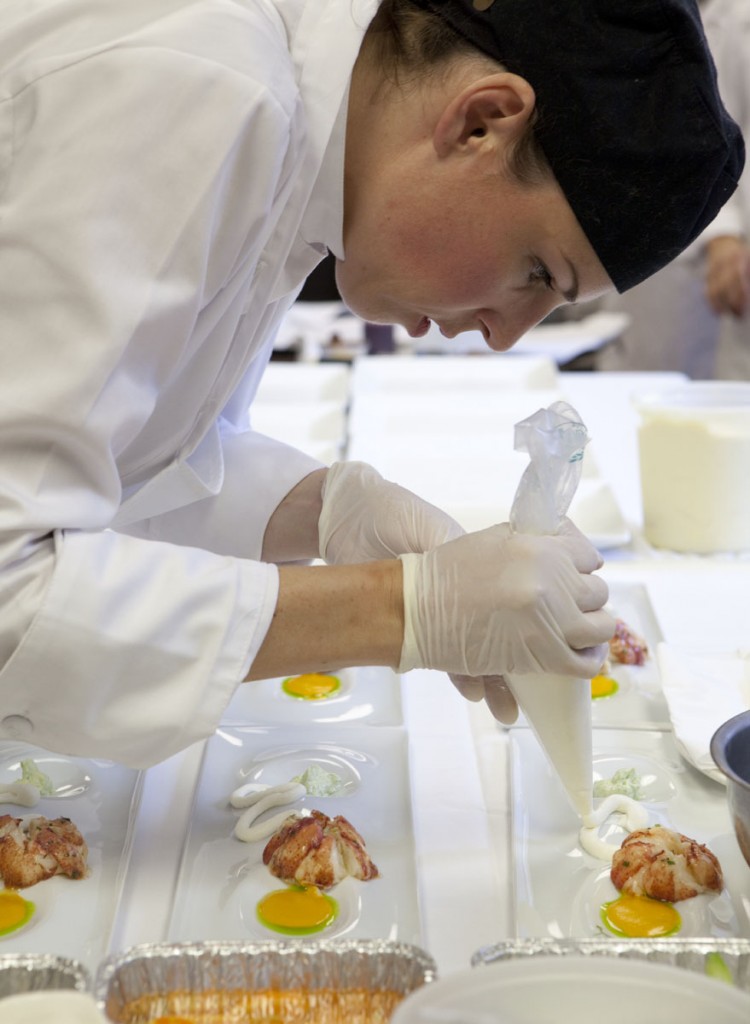 Day two started with all six candidates preparing a three course tasting meal for us – this included an appetizer, entrée and dessert. A crucial part of the selection process was also observing how the Chefs organized themselves, how they managed their assistant, their processes in the kitchen, how organized their workspace was, including their refrigerators!  The CIA judges as well as our Royal judges kept close observation on their skill level and how they used their allotted time to prepare for the tasting.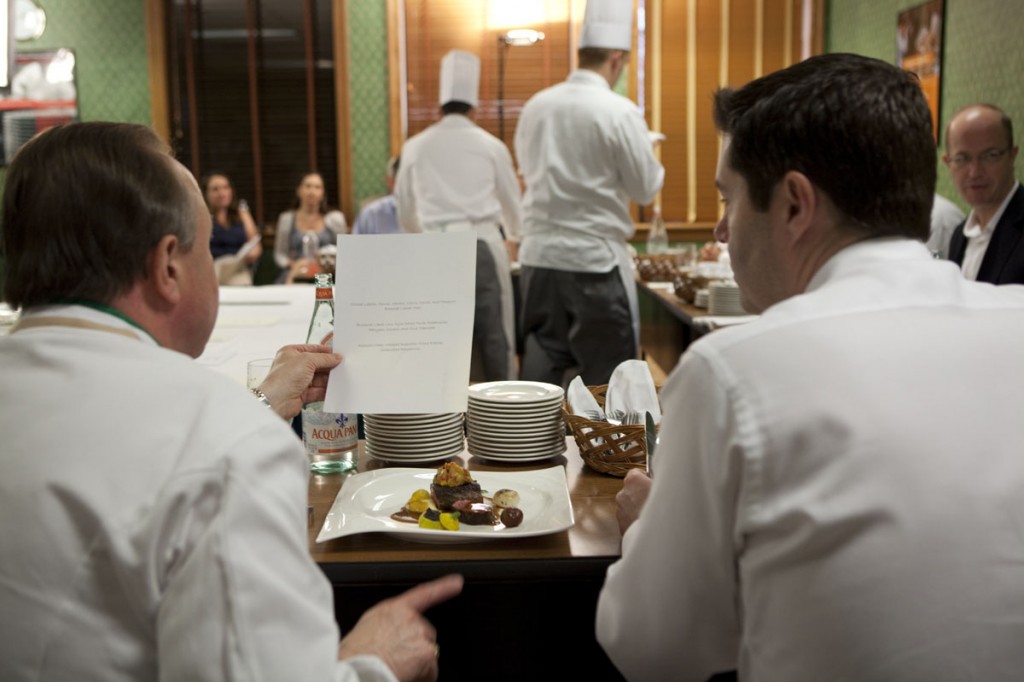 The final aspect of the contest was actually judging the food they prepared. We evaluated each meal on taste, presentation, execution and how the Chef presented what they had created.  Each of the six Chefs created 5 meals for sharing with the 10 judges, and we had one for display that we could refer to after they were all completed.  If you do the math, that means we each tasted 18 different food selections between the appetizers, entrees and desserts!!!  Yes 18!!!!  (I also have to admit that I did try every dish, including the snapper and the halibut from two of the chefs.  I will also admit that I actually really enjoyed it, so perhaps I will end up eating fish after all).  Following this portion of the interview process we had an open discussion about each candidate and then tabulated the scores, which included the points from the "Fan Favorite", as well as the interviews, the food preparation and, finally, the taste and presentation of the food.  Later that evening, we had a cocktail party and dinner for all the contestants, and that is where we announced our winner.
Our winner, who also happens to be the fan favorite, is Maureen (Molly) Brandt.  Molly not only has an impressive background that includes being a culinary intern at the Food Network but also being a teaching assistant at the CIA. The menu she prepared for the contest included an appetizer of chilled lobster with citrus, caviar and a tempura battered lobster mitt (my new favorite food item).  Her entrée featured Provencal lamb loin, Dijon potato puree, ratatouille and Patty pan squash stuffed with an olive tapenade. Dessert was a unique creation of pistachio cake, whipped rosewater crème fraiche and carbonated raspberries. We are all thrilled that the partnership with the CIA resulted in 150 Central Park getting such a great young talent.  Molly will be joining Oasis in a few weeks to begin her immersion into shipboard life and begin the menu creation for 150 Central Park on Allure. We can't wait to see what she creates for Allure!
 As we finalized and reviewed the whole process, we also capitalized on a unique opportunity that presented itself to us. We were going to begin a search for the next Chef for 150 Central Park on Oasis of the Seas for year two of the operation.  The runner up on the CIA contest was Daniel Fein.  We were very impressed with him and offered him the position on Oasis! Daniel's background includes some great experience, including working for Cameron Mitchell. We all loved the very playful menu he prepared for us, which included "Southern Style Grilled Cheese and Tomatoes" for an appetizer that included heirloom tomatoes with blue grit cakes, blue cheese mousse as well as an argula and basil salad with lemon fennel oil.  The entrée was "Not your Mom's Pork and Applesauce" which was apple jalapeno glazed pork tenderloin with couscous, cauliflower sauce and an apple and jicama slaw. Dessert was "Breakfast to Bed" a vanilla honey waffle with homemade blackberry ice cream, with a blackberry reduction and lemon whipped cream.  Daniel really did his homework on Royal Caribbean and we look forward to welcoming him to the Royal family as well.
I hope I have tantalized your taste buds enough, and I look forward to welcoming you onboard either of the ships to enjoy the dishes these great young chefs will prepare.  We know that the overall culinary and dining experience onboard is very important to our guests, which is why we have been working hard to bring a creative new approach to various dining experiences onboard Royal Caribbean.  I could share a lot more about this entire great experience, but I really have to go for a nice long run now after these two days!!!!!!