Do you remember the old cigarette commercial that said its cigarette was "a silly millimeter longer?"  Well, according to the laser measurements that our classification society DNV recently conducted in Turku, Allure of the Seas is 50 millimeters longer than Oasis of the Seas.  In relation to something that is 362 meters long, the relative differential between the ships is much, much less than one millimeter was to a cigarette back in the day (do you remember cigarette commercials at all?).  In fact, a 50-millimeter differential is certainly within the building tolerance for such a ship construction project.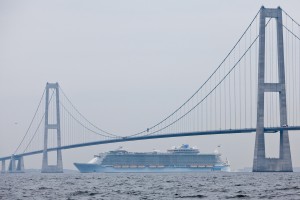 But here in the 21st century, any advantage is one worth pressing, so Captain Hernan Zini and the officers of Allure of the Seas find it rather obvious that they are responsible for the new and undisputed largest cruise ship in the world.  While the officers of Oasis of the Seas have confidence in DNV, they are nevertheless threatening to get NASA involved in making more precise measurements.  In the alternative, as the lawyers say, Oasis' officers say, "Who cares about 50 millimeters?"
Other than the above controversy, Allure's delivery ceremony was flawless.  I have been stating in recent entries that the ship was unusually ready.  Having now witnessed its condition as well as the readiness of the crew with my own eyes, I'm confident to say we could have taken paying guests right from the shipyard on a real cruise.  However, there are so many new features on Allure (DreamWorks elements, Chicago: the Musical, Blue Planet, Samba Grill, Rita's Cantina, Boardwalk Dog House, Guess store, Britto art store and Starbucks just to name the major ones) that I'm sure our team onboard will make good use of their "alone" time.  Speaking of which, Lisa Bauer will now commence her guest blogging from Allure as it makes its way across the ocean for Port Everglades for its November 11th arrival.
On behalf of Royal Caribbean, I would like to express our appreciation for the fantastic work that the STX Shipyard team and its subcontractors have done to make Allure of the Seas the beauty she is and to deliver her more than two weeks ahead of the original building schedule.  While we do not have any more ships on order at this time, we certainly look forward in the future to continuing a mutually beneficial relationship that dates back to the construction of our first ship Song of Norway that the Turku shipyard delivered to us 40 Octobers ago.