Weddings and special occasions have always been a big deal at Royal Caribbean International.  Now weddings are an even bigger deal as we have the opportunity to offer Weddings at Sea for the first the time in our history. The demand for weddings and related servicing has been so great lately that we have temporarily fallen below our service standard for responding to letters and emails. It will take us until early April to recover fully. Apologies for that. The last people we want to frustrate are nervous brides! We thought we would ask Wes Bower, our first ever Groom for a Wedding at Sea, for his take on the experience of a lifetime. Thanks Wes.
-Adam Goldstein
First allow me to introduce myself. I am Mr. Wes Bower and am pleased to meet your acquaintance. Please make yourself comfortable as I take you through a journey of floating vessels, impeccable service and one incredible wedding.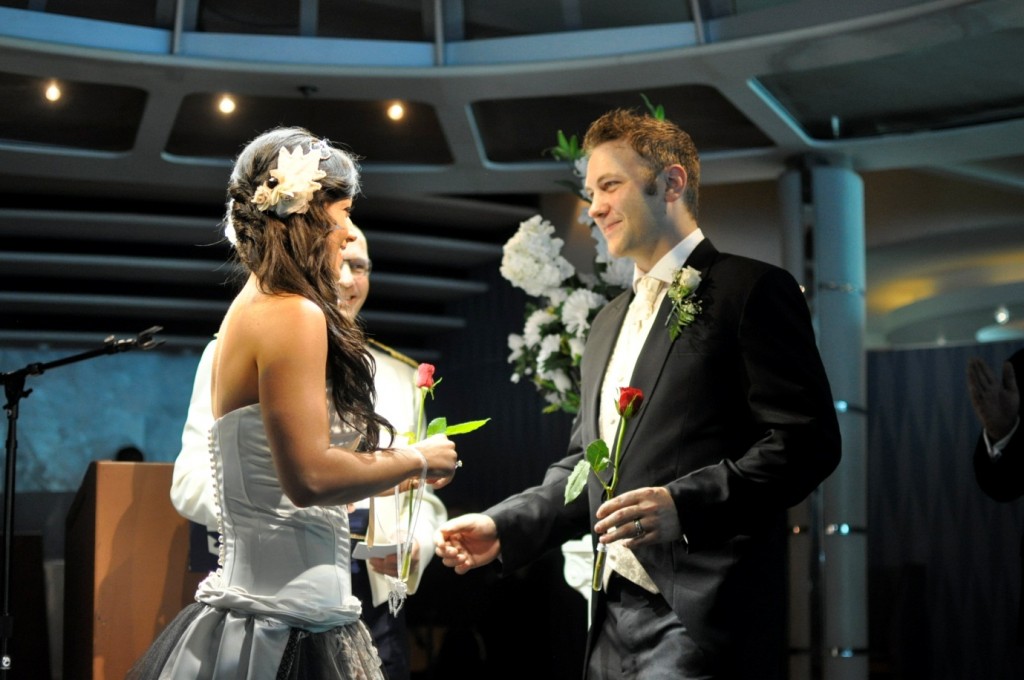 In November 2011 my wife, Celeste, and I got engaged onboard a traditional Thai boat just off the coast of Thailand in the Andaman Sea. We were soon faced with the difficult challenge of deciding where to celebrate our wedding and quickly started researching ideas. It wasn't until May 2012 when Celeste's folks asked "Why don't you two get married on a ship". Instantly we knew that that this is exactly what we wanted to do; and with even more excitement and determination we sorted out to find a cruise line that a) provided the service and b) was financially within our means.
It didn't take long until we landed ourselves on Royal Caribbean's Royal Weddings page.  At the time Royal Caribbean International only offered weddings on the day of sailing and destination weddings due to restrictions with getting married in International waters. In our mind it wasn't ideal but having researched the ship, Radiance of the Seas, and reading about the multi-million dollar renovation we were sold.
Since we live in Australia, contacting Royal Caribbean's wedding team is not an easy task due to time differences; however the team is very attentive with responding to emails and will call you if absolutely necessary.
December 2012. Every detail had been confirmed except the location on the ship where the ceremony would take place when I received an email informing me that Royal Caribbean is now able to conduct weddings out at sea. Instantly and faster than you could say "Radiance of the Seas" I was on the phone with our Royal Caribbean Wedding Specialist requesting this change which was quickly executed and reflected in our wedding contract.
Early January 2013 and less than 30 days until embarkation we were informed that there were changes in the process for obtaining the marriage license.  Royal Caribbean was working with the Attorney General and Registrar General of the Bahamas to finalize the process which would allow Royal Caribbean to wed couples at sea. SHOCK! This is when stress overload started to really kick in. We were scheduled to depart in 30 days with 30 friends and family who were going on a cruise to see us get married.
We started to look at destination weddings on the islands as a backup and managed to find a resort that would place an entire wedding on standby with a small deposit. But in the end we were determined to get married on the cruise adventure no matter what.
What an experience it is dealing with the Royal Romance department. They just make the whole process of getting married out at sea so simple. They provided all our options via email and all we had to do was tick exactly what we wanted. Brilliant.
Upon our arrival at the ship we were happy to see that the luggage drop-off was extremely quick and we immediately started the check-in process. Celeste was carrying her wedding dress so all Royal Caribbean staff waived us through and put us in the express line. Within 10 minutes we were hanging our clothes in our stateroom and reading our welcome note from the Cruise Program Administrator (CPA). It was now time to explore the ship.
This was our first cruise on a ship of this size and our expectations had been exceeded. We were keen to look around the ship for locations for our ceremony.  Typically the location of the wedding is confirmed with the ship before the bride and groom get onboard.  However the Royal Romance team made an exception for me.  At 5 pm we met with our CPA who explained that we wouldn't be able to get married on the deck due to wind, which we guessed made sense because Celeste didn't want to have her hair blowing in the wind.
On the ship, there was a buzz from everyone we met regarding this wedding that was going to take place onboard. It seemed that word had got out around the ship that this wedding, the first Royal Caribbean wedding at sea, was taking place on their cruise. We even met a lady who was talking about our wedding as if she knew us. Ha ha the look on her face when we told her we were the wedding couple was priceless.
We had made the decision to be married in the Star Quest Lounge which is located on the top deck in the newly renovated Viking Crown. The room looks like it could hold at least 500 people so you can imagine my shock when they agreed to lock down this room for five hours. The room has a revolving bar and 180 degree windows looking out to sea… it was perfect. I have to admit that I started my day with a Royal Caribbean long island iced tea to ease my nerves whilst Celeste was in her stateroom surrounded by photographers and her minions who were helping her get ready.
3 pm wedding time. Ice sculptures, carved fruit and a mountain of food was scattered around the tables. An amazing floral arrangement had been strategically placed around the altar. This was the Captain's first wedding.
I was waiting nervously at the altar when the music started to play. The bridesmaids started making their way into the room. The moment in between the last bridesmaid entering the room and Celeste entering the room seemed like an eternity.  Celeste approached the altar with beauty, grace and fighting back tears in her eyes…the true radiance of the sea. The ceremony went so quickly and before you knew it we were in each other's arms shaking our booty around the dance floor.
The rest of the night we spent getting our photos taken around the ship while guests on the cruise continually came up to us to offer congratulations and to oooohhhh and ahhh over Celeste's dress.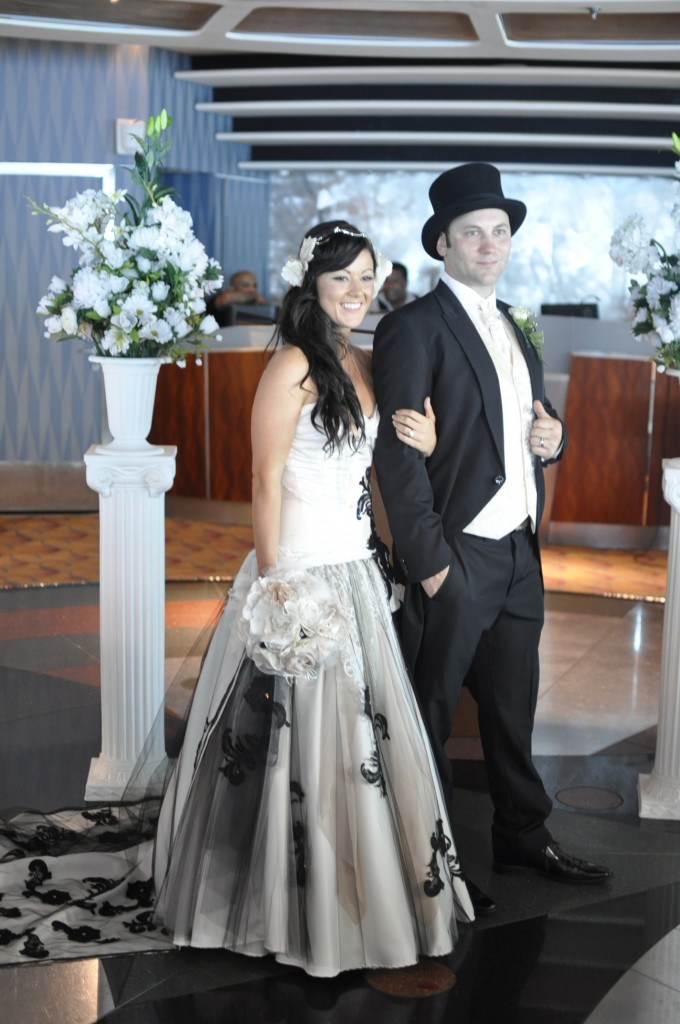 The team at Royal Caribbean really treated us like royalty and helped to create the most amazing day of our lives. A day we will never forget. We could go on and on about the amazing service but this blog has to end sometime. Would I do it again?
If you have any questions you would like to ask us throw them our way we would be delighted to help and provide advice based on our experience. I would like to leave you with this question.  What is the strangest place you have known someone to get married?