My name is Christian Compton and I am a project manager in our Newbuilding and Fleet Design department working with our Revitalization team, led by our Radiance Project Manager Dominick Flores, to revitalize our wonderful ship Radiance of the Seas.   We have a wonderful team here of Engineers, Architects, Designers, Accountants, Ship Managers, Crew, Contractors and everything else we need to pull off  this wonderful challenge.  As I am writing this post, the ship is now in day 3 of our 21 day drydock, which will be sure to make Radiance of the Seas one of the most exciting ships in our fleet.  You can see more of the details about what new venues we are adding here.
Radiance is the 3rd ship this year to receive new features under our Royal Advantage program after Liberty of the Seas and Freedom of the Seas.  The revitalization of Radiance is the largest of the three projects.  I can only say, wow, we are excited.    For those of our guests who have followed our company through the years you may remember our team featured in a documentary called "Drydock: A cruise ship reborn."  Well that team has grown and through the years we have pushed ourselves to take on bigger and greater challenges so that we can deliver bigger WOWs. 
A big revitalization project like this takes a team of nearly 700 contractors and nearly 75 managers from our shoreside departments.  That doesn't even include the more than 1,000 regular crew members who will stay and help out.    Although the ship is only out of service for 3 weeks a project like this is culmination of thousands of man hours, days of planning, meetings, and coordination.   Already several weeks before the drydock began on May 20 we had teams or "riding crews" loading materials and organizing plans and cleaning out ship stores.  When we build new spaces, we don't need that old carpet design anymore, what we will need is space for new spares. 
The whole team arrived in Vancouver in the days prior to May 20 to make sure that everything was in place to organize time for loading materials, debarking our guests and embarking 500 contractors.  So as Radiance of the Seas came into the port of Vancouver, a small army of forklifts and teams were busy organizing containers, pallets, tools and checking-in 500 contractors.  Thanks to our outstanding guest services, logistics, and hotel teams 45 minutes after the last guest was debarked 10 containers, 200 pallets and 500 contractors were onboard and making speed to Victoria Shipyard in Victoria, Canada.
The first day of revitalization can only be compared to that first day of school after a long summer break.  Just like our guests who build long term relationships with other guests through years of sharing wonderful cruise vacations on our ships, our contractors too have become long time friends.  The first day is a chance to see old friends and make new ones to take on exciting new challenges.  Even our crew and officers have grown with us.  Our outstanding Captain Claus Andersen was Staff Captain during Sovereign of the Seas Revitalization back in 2004.  So 7 years later we have been reunited, albeit both in new roles yet just as excited to do it bigger and better. 
As we pulled into the drydock on a beautiful spring day here in Victoria, only 6 hours after leaving Vancouver, Radiance of the Seas was already becoming her dramatic new self.   Up on top the turf was pulled to make room for new future teak and space for the big screen TV to adorn the pool deck.  The golf course was ripped up to make room for a bigger and better one.   But the real drama was happening inside. 
The Seaview Cafe not only has a seaview, it now temporarily has an open air patio as the window wall was torn down to make room for the new enlarged glass facade of the future Samba Grill.   Across the hall the Country Club was paved to make room for the new arcade, which will be bigger than most a float.   And as the new arcade was finding its home the old arcade was already stripped down to make way for our new Nursery in the Adventure Ocean area.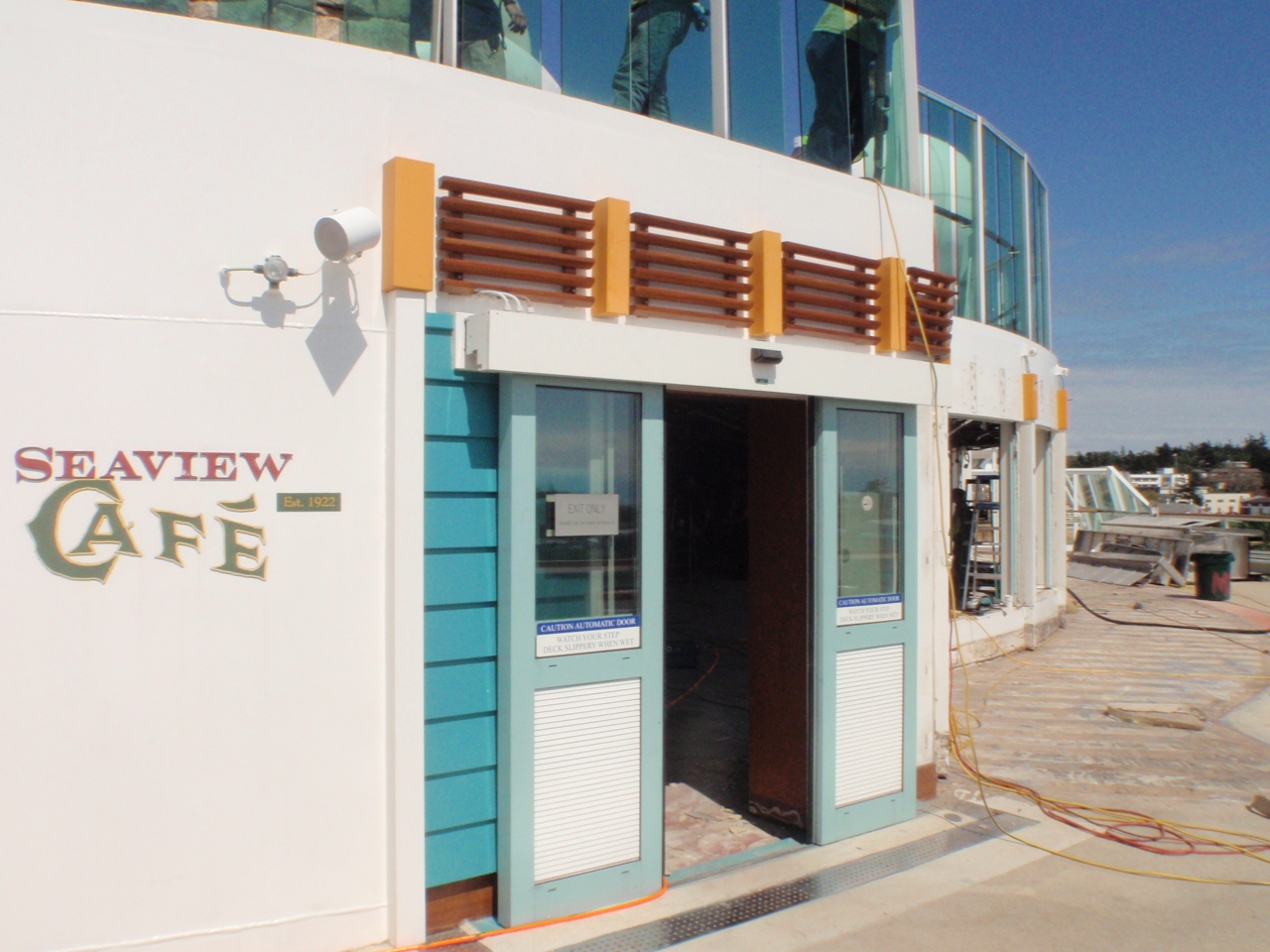 Downstairs at the same time the old sports bar memorabilia in the Scorecard Bar was being carefully packed away as a an army of sledge hammer holding demolition crews geared up to bring in the dawn of our biggest and grandest Pub at sea, the "Quill and Compass".   By the next morning the only remembrance of the Scorecard Bar was a Royal Caribbean International pennant hanging on the wall to remind everyone where we are and what is happening. 
Part of the fun of growing with this team and developing our skills brings the joy of finding new ways to do our jobs better.  We like to call it "finding new toys" and for this Revitalization we have wonderful set of little demolition superstars we affectionately call Terminators 1 and 2.  These little machines resemble a little cleaning car, except their brushes are swapped out for mean little blades and spears that can pull up teak, turf, carpet, tile, and anything in between.  Before we arrived in Victoria our contractors were struggling with the deck demolition.   So when Captain Claus rolled the terminators out onto deck, like "blue knights" riding to the rescue, I can assure everyone the cheers from all the teams were probably heard back in Miami.  Ahh the smile of kids and their toys.
While all of this work is going on we have to thank our outstanding crew onboard for keeping us safe, housed, fed and happy.  The thing with Revitalization is that we are all living onboard, so really, Radiance is just on a different type of cruise with a different type of guest.  Imagine that if you went in for a makeover, however extreme, and that you had to keep working while it was happening, not even the newest smart phone can handle that task.   Although we are on a drydock cruise I can ensure you there is no sleeping in.  If you would happen to forget to wake up by 7 am there are enough jack hammers, grinders, and workers running around to make sure that you get your wake up call. 
Speaking of jack hammers, Our Vice President of Newbuilding and Fleet Design, Kevin Douglas, likes to say you can smell and hear how the project is going.  Today I heard jack hammers and smelled burnt steel, so we know we are just starting and demolition is at full speed.  Once we get that "new car" smell we will all know that guests are packing their bags and we better be heading out. 
Long hours and hard work aside, we are looking forward to moving into the construction phase during the coming days.  The real fun is seeing all of the workers and crew get excited about what we believe will be some of the best dining experiences, anywhere.  I already mentioned the Samba Grill, but right below will be Rita's Cantina and Izumi Asian Cuisine.  Both venues will be finding homes next to our fabulous Windjammer Cafe making this truly an international culinary destination. 
Speaking of international, as we all know we have wonderfully diverse crews, and we have a wonderfully diverse group of contractors helping us as well.  Right now there are contractors from more than 20 different nationalities working together to build our new venues.  Out here we all speak the same language which translates to working safely and efficiently so that on June 10 our guests will confirm the goal that we are what we are all working towards. To DELIVER THE WOW!