"Wellness" is a primary objective of our company both internally and externally.  We offer healthy vacation options to our guests featuring our onboard jogging tracks, Royal 5K races and more and spa programs. We also promote wellness within the larger community as exemplified by the efforts of our U.K. office which partners with Olympic Gold Medalist Sally Gunnell to start amateur running clubs around the U.K.  The wellness of our employees is a major priority for our company and we encourage other companies to think similarly.  As I have chronicled in my blog, the Royal Caribbean Cruisers track and field team is a focal point for our company wellness effort.  The Cruisers compete both locally and nationally and are looking forward to success in 2013.  To explain more about what wellness means to us and how we deliver wellness opportunities to our employees in South Florida, I asked our South Florida Wellness Coordinator Georgette Baeza to post a guest entry.
-Adam Goldstein
My name is Georgette Baeza and I am the Wellness Coordinator for the Shoreside employees in our South Florida offices. Royal Caribbean Cruises Ltd. believes that it is possible for employees to leave work in a healthier/more well-balanced state than when they came in; thus, they contracted my company, NFC Amenity Management, to manage, create and execute the corporate fitness and wellness programs we have on-site.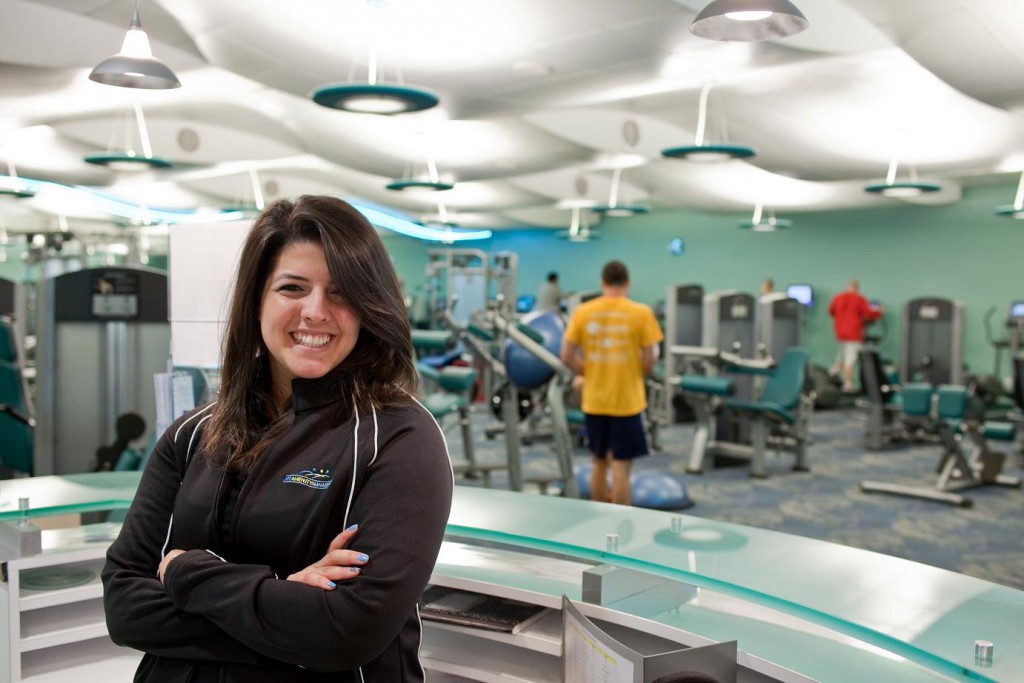 I think it's amusing when I tell people what I do because they consistently give me a double-take. They usually are confused with what the term "wellness" means and how it fits into the day-to-day operations of a corporate environment. Unfortunately when people see the term "wellness" it is only associated with clinics and spas – which is ok, but it is so much more than that. I define wellness as "an approach to life with the understanding that the greatest happiness can be achieved with balance." This means you are consistently striving to become the best version of yourself in all areas of wellness: financial, emotional, spiritual, vocational, social, physical, intellectual and global. This is what we promote and educate Royal Caribbean employees about and we also provide opportunities to develop each component every day.
The wellness program at Royal Caribbean, which extends to our Kansas and Oregon offices as well as those in South Florida, is called "Wellness Works" and has been an active program within the company culture since 2009. I am proud to share that our program received a 2012 South Florida Worksite Wellness Award by the Florida Heart Research Group and the 2012 Healthiest Employer award by the South Florida Business Journal.  We provide in-house workshops, group exercise programming, fitness challenges, life-coaching, personal training, a library of materials on all topics of wellness, departmental stretch breaks, wellness fairs, sport-specific recreational events and teams as well as many other opportunities to engage employees at our company and surrounding communities. We publicly recognize one employee each month as a "Wellness Warrior" and we also to provide in-house communications such as print and electronic newsletters and a Facebook page.
Everyday my job feels almost like Christmas because each new day puts me in touch with getting to know and work with our employees while they pursue the journey of being fit and living well – and that is truly an amazing gift! For example, I recently received the gift of organizing a team that participated in a fun-run 5K called "Color Me Rad" in Miami with our employees, their family and friends. This was a race where you get "painted" at various color stations along the way. We had a great time getting messy and I think my face was sorer than my legs at the end of the race because I was smiling so much!
It's very encouraging that in the current economic climate Royal Caribbean invests resources which contribute to the health and happiness of their employees. The Center for Disease Control produced a report titled, "Healthy People 2020" with the goal of making sure that all people have the opportunity to learn how to live well and be healthy.  I am so pleased to be a part of Royal Caribbean's program which is already making progress toward the same goal.
Until next time, be fit and live well.