Swank Farms: How local ingredients go from land to sea
James Beard Award-winning chef Michael Schwartz explains how produce grown at local farms inspires the menu at Royal Caribbean's 150 Central Park -- a "farm to table" concept that's introducing new, seasonal tastes to more guests.
Destination Spotlight
Labadee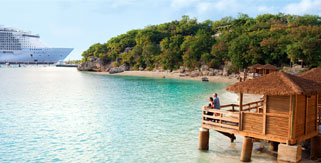 Private Paradise
On the north coast of Haiti, surrounded by beautiful mountain slopes and exotic foliage, sits Labadee®, Private Paradise. This exclusive destination offers pristine beaches, breathtaking scenery and spectacular water activities.
View Destination Information